Garden Furniture Inspiration 2019
In recent years there has been a definite shift in the style of outdoor living. Patio furniture is sumptuous and more akin to living room furniture. Instead of a foldable, rickety deckchair, your BBQ guests will expect to see a sofa and some armchairs!  See some of our tips below on transforming your outdoor space with paving, walling and furniture!
Its all about the Egg Chair
For designer chic seating, you may desire a suspended 'egg' seat. The feeling is of a real living room outside.  To create an enclosed outdoor room, raised beds constructed from Secura retaining walls or Garden Stone walling would work well.  A popular look for furniture is of wicker in grey, beige or similar muted, natural tones.  A good match for this for the patio surface would be Tegula block paving in grey tones with a charcoal border.  This could be used to create an enclosed, courtyard feel. Another option for seating benches which you can add floral cushions to and the addition of shelves for displaying colourful potted plants will create a cosy cottage garden ambience.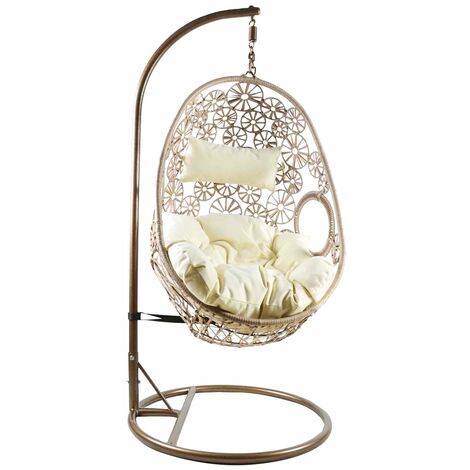 Charles Bentley Floral Rattan Swing Chair£199.99 

Rattan Double Swinging Double Egg Chair £349.99
Low maintenance yet stylish patio furniture
On closer inspection of most new rattan patio furniture, you will see that the rattan is, in fact, plastic and can, therefore, stay outside all year round. This makes life much easier as it doesn't have to be stored in the shed for the Winter months.  Another advantage is that you don't have to paint it every year, unlike wooden garden furniture.  Waterproof outdoor seat cushions are now available too.
Homebase Casual Dining Six Seater £900
Amazon Rattan Dining Set £589.99 
Maze Rattan Chelsea Suite £1299.99 
Take your BBQ parties to another level
An outdoor kitchen is another recent trend in garden design. This could be constructed from Country Stone walling with Historic Flags as the worktop area. It could have the dual purpose of setting out trays of seedlings in spring to harden off.  It is always a good idea to have multi-usage for permanent structures to avoid regret later.  Built-in barbecues and fire pits are also popular though make sure you have a practical spot to position them for ease of use.
Oaktree Garden Centre Signature 6 Burner GAS BBQ £1169.00
Bushbeck Luzern Grill Bar £357.99
Amazon Forno Allegro Wood Fired Pizza Oven £799.78
Install a relaxing water feature
The sound of water is a popular feature outside, so you may wish to include a water feature of some kind. However, they do require a bit of maintenance and cleaning to look good and function well.  Think carefully in advance what it will look like when not switched on.  A classical style face or large rock or statuette will make an interesting feature with or without water.
Primrose Solitary Pour Water Features with LEDs £299.99 
Higgledy Troughs Water Feature £169.99
Eclipse Stainless Steel Water Feature £59.99
Enhance your space with attractive lighting
To extend the time you can spend outside, lighting is a functional and attractive feature. It is better to see the effect of the light, rather than the light itself.  For example, a light shining up into a tree or bamboo will add interest to the garden and really enhance the look of the plant.  Spike lights look good set among shrub beds or strings of outdoor fairy lights hung around the patio area.
Large Solar Garden Path Lights – Lights4Fun £34.99
Dunelm Peacock Solar Lantern £7.50
Lighting Direct Weatherproof Festoon Lighting
It's playtime! Years of fun with a giant chess set
For a fun feature which is guaranteed to amuse all your visitors, how about a giant chess set? For the chess board, use Tobermore Mayfair 400x400cm flags in dark Graphite and light Silver.  Finish with a border around the edge of two rows of Sienna Setts.  This would create a square of approximately 3.6m.  This means it could also be used as a patio if no one fancies a game of chess!
Imagine this as a permanent garden feature using Mayfair and Sienna!
If you would like some assistance with your patio design, why not contact your local Tobermore Paving and Walling centre. We have several levels of design services available and we can also help you find a paving contractor to carry out the work.  For more information on how we could help you, please call 028 7964 2411 or visit one of our paving centres in Tobermore, Bangor, Dublin or Cork!
Check out the Inspiration Gallery
If you are in need of some inspiration to help you get started, have a look at our Inspiration Gallery.
Find Out More