How To Create a Sensory Garden
Awaken your senses this summer, with a sensory garden
There is nothing more relaxing than to be alone in a beautiful garden.  There is rarely complete silence unless it is in a very rural setting.  Even then, there may be sheep or cows in neighbouring fields and there will often be beautiful birdsong.  With a bit of thoughtful planning, a garden of any size and location could become a sensory garden.
A sensory garden incorporates mystery and interest, created by curving paths and secluded seating areas.  Even with a small garden, this is possible with the creative use of raised beds and good planting.  Curved paths are easily created using Tegula paving , leading to perhaps a Historic courtyard style paved circle with a contrasting border.  Planting around this area will be given instant height and density if it is in a raised bed.  This could be easily constructed from the Secura retaining wall system which is very easy to build without the need for mortar or a brick layer.
If you would like to have a sensory garden, but don't know where to start, why not call in to the Tobermore paving centre.  You can have a walk around our display patio areas to see our different products and find out about our design services.  We can design your garden and recommend some local paving contractors who may be able to do the work for you.
Enhance garden scents with a range of flowers and shrubs
Once you have your garden designed and created, choose plants to complete the sensory experience.  These include scented plants such as lavender with its relaxing qualities and honeysuckle which is more strongly perfumed at night.  Other sensory plants include Alchemilla mollis with its soft, felty leaves and the soft, green fronds of an evergreen fern.  Planting interest must be extended beyond the summer months so that you can enjoy your sensory garden all year round.  Shrubs which are ideal for this include Mahonia which produces scented flowers in November and February and Eleagnus which fills the air with its perfume in December.
Listen to the sound of plants and trees in the breeze
To enjoy birdsong in the garden, encourage our feathered friends in by planting some fruit bushes.  For example, blackcurrants, gooseberries or blueberries will attract blackbirds.  Pampas grass is popular with birds for its seed heads in autumn.   Bees and butterflies will be encouraged to visit Sedum and Buddleja – there is nothing more hypnotic than the sound of bees buzzing around the garden.
Gardeners Dream Pampas Grass Plant
Enjoy the gentle sound of water
The sound of water also has a very relaxing effect, so it might be a good idea to find somewhere for a small water feature.  Imagine sitting outside on a warm summer morning enjoying a cup of coffee, with the tinkling sound of water in the background.  You'll feel as if you're away on holiday!  If you have space, you might consider a small pond.  A path around the pond could be created from Historic flags set in a gravel border to give a soft, natural feel.
Be sure to incorporate a small paved area at the side of the pond for a bench seat.  This means you can sit and enjoy watching the fish.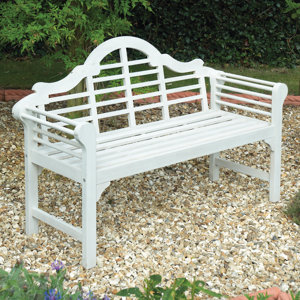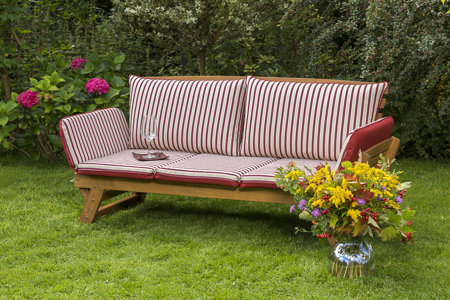 Enjoy your garden night and day with creative lighting
Lighting is another important aspect of the garden.  The effect of uplighting a tree or large shrub is captivating and will extend your enjoyment of the garden, even after dark.
Solar Blue and Gold Moroccan Lantern
Starburst Solar Powered Stake Lights
We often think that to make time in your day to have the luxury of a few moments to yourself is selfish or unnecessary.  But nothing could be further than the truth.  Go outside to your beautiful new sensory garden.  Sit and take in the sights, sounds and perfumes.  This is your new garden – you deserve it !
Check out the Inspiration Gallery
If you are in need of some inspiration to help you get started, have a look at our Inspiration Gallery.
Find Out More